Vietnam has undergone the most severe wave of Covid in the last few months, which has hurt numerous families and individuals badly. Since the very beginning of the outbreak, BASF Vietnam has rapidly introduced remote working options for employees and various measures to ensure the safety of colleagues, contractors, customers and distributors.
"We have done whatever we can to help the country flatten the curve and protect the wellbeing and build resilience for the communities in response to one of the toughest health shocks in many decades," shared Erick Contreras, managing director of BASF Vietnam. 
Emergency relief to needy families under lockdown
In May and June, the increasing number of Covid-19 positive cases in Bac Giang made it the worst hit province, resulting in lockdowns and production plant closure or suspension in many areas, posing challenges for the families and their children in accessing food and basic necessities. 
In collaboration with NGO partner Saigon Children's Charity, BASF Vietnam immediately provided emergency support to the impacted residents with a range of "Backpacks of resilience" containing rice, cooking oil, and canned food among others to help them respond during this critical period.
Then the outbreak widely spread to many other places in the country and soon hit HCMC, where the company's main office is located. The prolonged stay-at-home mandate in the city since July has protected the safety of the city residents, however, it has also posed great challenge for the livelihood of many families, who have already been suffering a lot since last year and now cannot go out for work, preventing them to make ends meet. 
Once again, in August, BASF joined Saigon Children's Charity to offer emergency support to those in the most heavily impacted districts, helping them access the limited food supply. 
Especially, books and toys were also offered for the children to enjoy during their summer break. In total, more than 100 families with kids in the two epicenters of Bac Giang and HCMC were supported by BASF Vietnam.
The record number of positive cases in the city in the last few months has also threatened the medical system. The overloaded hospitals and their hard-working staff are lacking the most needed medical devices and supplies to save lives. 
BASF joined the European Chamber of Commerce in Vietnam's (EuroCham Vietnam) Breathe Again donation campaign to offer medical equipment for hospitals in Vietnam's hardest-hit areas. 
In early October, together with other sponsors, the company donated a ventilator especially designed for premature babies, isolated from their mothers who got infected with Covid-19, at Hung Vuong Hospital in HCMC. 
New normal of community works 
Covid-19 has forced many people to change how they do things. All individuals and companies are trying their best to adapt to the new normal staying at home, minimizing physical interaction and switching to virtual ways of working to protect their safety while ensuring business continuity. 
BASF has introduced Kids' Lab, a global interactive education program to help children learn about chemistry through hands-on experiments, in Vietnam consecutively since 2011. 
"Every year, we host about 600 primary students in our fun-filled event to explore the role of chemistry and natural sciences in our daily life. Unfortunately, the current pandemic doesn't allow us to host the live events. But this cannot stop us from helping the next generation of Vietnam develop their passion for chemistry," shared Erick Contreras. 
Instead, by the end of this year, the company will offer the future scientists a range of online games in Vietnamese in the BASF Virtual Lab (http://thinghiemvui.basf.com). This website is where they can explore the amazing world of chemistry from the comfort of their school or home, anywhere and anytime with just a digital device and Internet connection.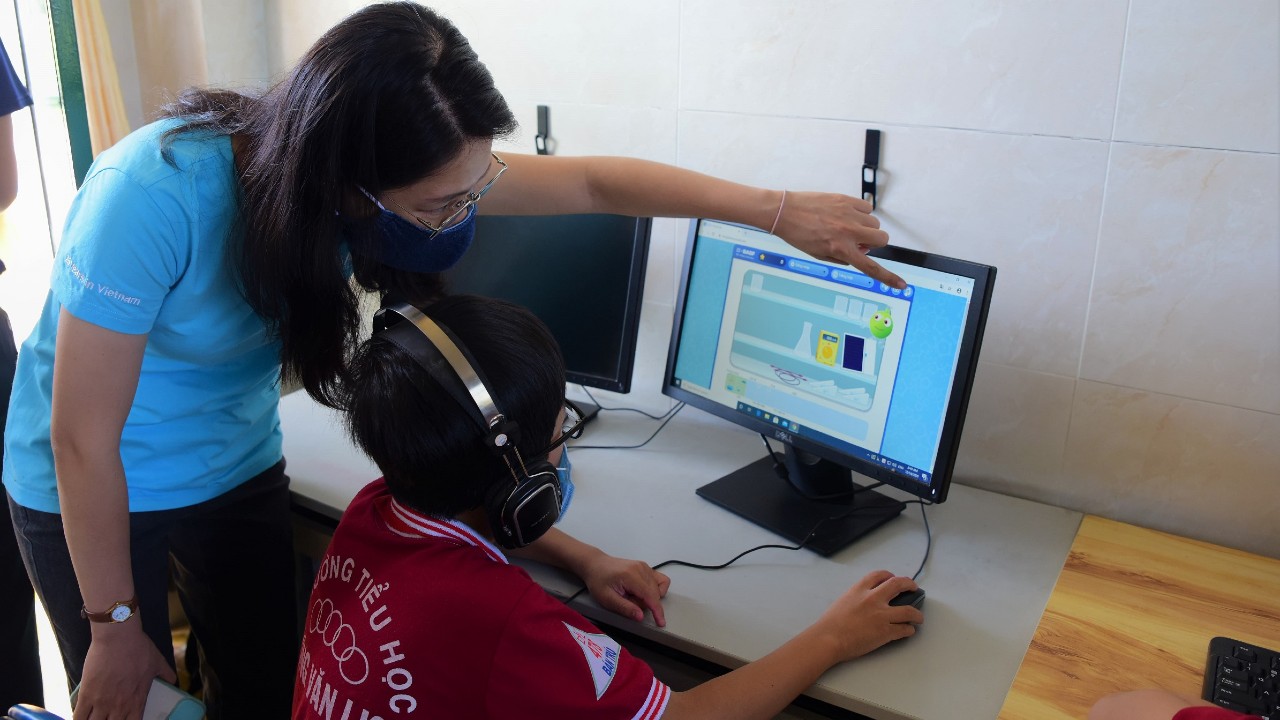 BASF Vietnam will also donate computers to the schools in the rural districts of HCMC to support the students and teachers in their science education. 
In the fourth quarter, when hopefully the pandemic is lessened, the company will continue its flagship community program of school renovation, improving the learning environment for over 100 primary students each school year in a remote area of An Giang Province. 
An outdoor playground will also be offered to the underprivileged children in a nursery home in Hanoi, helping them develop their physical and cognitive skills through play. 
Some of the outdoor toys will be made from recyclable materials like old tires to build a good habit of giving a second life to recyclable materials in everyday life among the little kids. 
"These are some of the many ways we are contributing to the sustainable development and educational advancement of Vietnam, one of our key markets in the region," Erick Contreras concluded. 
BASF is the world's biggest chemical company in terms of revenues, R&D investment, and number of employees. The company is organized into six segments: chemicals, materials, industrial solutions, surface technologies, nutrition and care and agricultural solutions. 
BASF has been doing business in Vietnam since 1994, offering solutions to key industries, including agriculture, construction, automotive, footwear, paint and coatings and electric and electronics.
For more information about BASF Vietnam, visit https://www.basf.com/vn/vi.html