It seems the market is showing signs of the cash flow shifting towards blue-chips.
For three months now, whereas mid-cap and penny stocks have constantly experienced a surge and kept setting new highs, blue-chips seem to remain fast asleep as if they have been forsaken by the cash flow. This is the reason why quite a few investors who have mindlessly amassed blue-chip stocks, particularly bank stocks, are feeling frustrated when the market markedly goes up and yet their portfolio does not see much improvement.
To be specific, since mid-July, the VNMidcap (an index measuring the growth of 70 medium-sized enterprises) and the VNSmallcap (which indicates the growth of 151 companies whose scale is small) have picked up by more than 32% and nearly 60% respectively. Meanwhile, the VN30 has gained less than 12%, with certain stocks virtually moving sideways.
Several reasons can be cited behind the recent stagnation of blue-chips. One of them is that many stocks in this group already rose sharply in the previous period, and they were thus no longer cheap, even though it has been forecast that profit growth will probably slow down. In fact, business activities of a number of retailers in this group—such as PLX, MWG, and PNJ—have been significantly affected during the time of social distancing due to the pandemic.
Notably, as regards the banks whose stocks are blue-chips, the task of aiding their clients with solutions—such as debt restructuring, exemption and reduction of loan interests and service charges, or interest rate cut—deals a severe blow to their profitability. Therefore, many an investor has temporarily pulled out to look for other better opportunities, for instance real estate, raw materials, minerals, commodities, chemicals, etc.
However, it seems these days that the market is showing signs of the cash flow shifting towards blue-chips. For example, in the session on November 3, mid-cap and penny stocks were suddenly sold out aggressively in the face of the profit-taking pressure. A multitude of stocks in this group even fell to the floor in droves. In contrast, blue-chips became the main shelter that day, when the VN-Index lost nearly 20 points versus its highest peak while liquidity surged to a record level.
Though this phenomenon did not last long, as the cash flow returned to mid-cap stocks during the last two sessions of the following week and helped this group regain position, it can be considered a wakeup call that says a shift in the cash flow is taking place. As a matter of fact, there are more and more factors that will probably help blue-chip stocks soon become a magnet again, and regain their role as the leader of the general market in the coming time.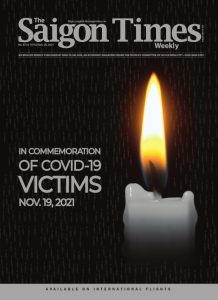 Catalysts
To start with, take business results. As per statistics, 95% of the companies listed on the two exchanges have made public their business results for the third quarter, that posted an increase of 20.1% in their profit after tax over the same period last year. Among them, the VN30 companies performed better, with 29 of them seeing their profit after tax pick up 21.5% year-on-year. Notably, 23 of the banks which have published their Q3 financial statements achieved a growth rate of 19%, quite positive in spite of the pessimistic forecasts made earlier.
The second catalyst is that in the post-social distancing period, when small- and medium-sized enterprises continue to struggle with the shortage of capital or human resources, large corporations are capable of staging a faster recovery. Given their abundant amount of cash, these firms could still to a certain extent stabilize their operations and the income for their workers during the months of social distancing, which means they can now maintain their workforce and quickly resume productivity.
That is not to mention a remarkable number of enterprises in this group, such as banks and securities companies, are considered essential and did not have to suspend their operations. Moreover, some companies—such as HPG or PLX—have benefited from price hikes of commodities, say, steel and fuels. Meanwhile, PLX, MWG, PNJ and the like will soon catch up with the bustle of the reopened economy.
It is noteworthy that even though the economic context with multiple hardships for nearly two years has badly hit and gradually weakened the majority of the business community, it is probably an opportunity for large enterprises whose financial resources are abundant to accelerate their growth, gain more market share or carry out mergers and acquisitions targeting smaller and struggling firms.
Most importantly, with the recent surge in mid-cap and penny stocks, whose valuations may no longer be attractive, blue-chips seem to be relatively cheaper in the eyes of investors. Take the real estate market as an example. While stocks of DIG, NLG, HDC to LDG, SCR, CEO have skyrocketed recently, the VN30 giants, such as VHM, NVL, PDR and KDH, have almost moved sideways or only started to go up despite the fact that they are the leaders when it comes to the availability of land.
Securities companies in their latest assessment reports have also pinpointed the phenomenon of the cash flow moving back to the VN30. Typical of them are VIC, VHM, GAS, VCB, and CTG, which are now seeing brighter prospects. According to analysts, there are signs showing that the cash flow is returning to the key group after a fairly long period of moving sideways and accumulating value. If this move continues, it will affect mid-cap and penny stocks which are unlikely to tolerate the profit-taking pressure or sustain the previous upbeat mood.
Analysts also believe for the time being, banks may be an indicator of the shift in the cash flow. Therefore, as all bank stocks are picking up, the pressure of correction and profit taking will build up for the mid-cap group. In addition, when the cash flow returns to the group of key stocks, this may give rise to the phenomenon of "a black hen lays a white egg" and make it more challenging for investors in the coming period.