From August 24 to 26, a Queensland trade delegation led by Mr. Mark Furner, Minister for Agricultural Industry Development and Fisheries and Minister for Rural Communities, visited and worked with Vietnamese partners, importers, distributors, and retailers to help Queensland enterprises find output markets for their agricultural and food products in Vietnam.
The highlight of this visit was the Taste of Queensland networking event, which took place on the evening of August 25 at the Sofitel Saigon Plaza in Ho Chi Minh City. During this event, Stockyard Queensland beef, with its distinctive and premium flavor, was served to some of Vietnam's leading food and beverage importers and distributors.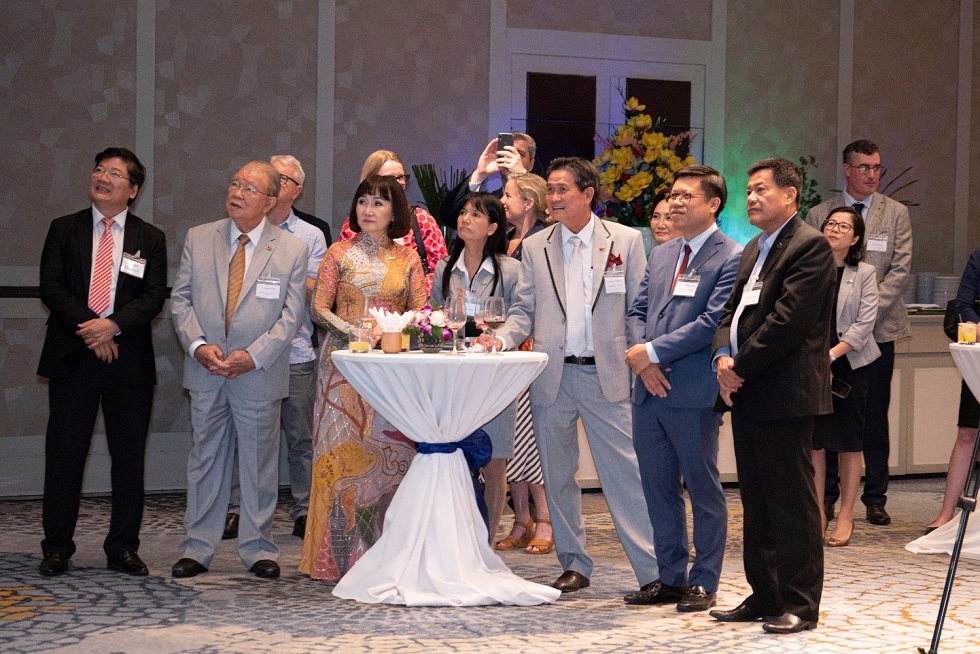 In addition to Stockyard Queensland beef, various other outstanding products were also introduced to Vietnamese guests and enterprises, including Borrowdale pork, Sugo Tu Sour Dough pizza base; Dairy Free Down Under cheese, Lime Caviar finger lime pearls, and beverages from Bundaberg Brewed Drinks.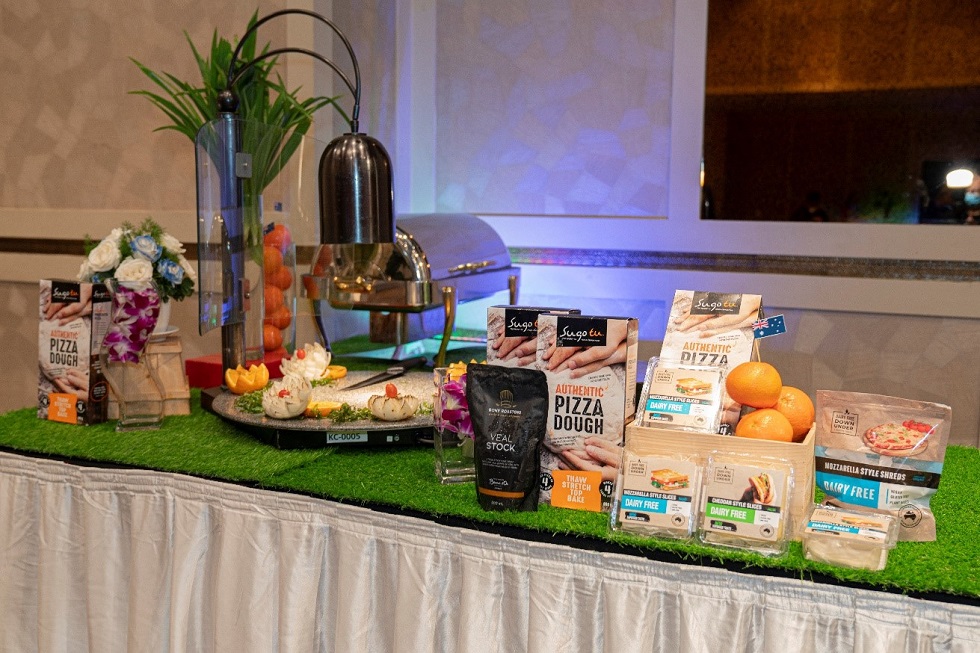 At the Taste of Queensland event, Minister for Agricultural Industry Development and Fisheries and Minister for Rural Communities Mark Furner said:
"I am delighted to be in Ho Chi Minh City tonight to officially celebrate the establishment of the Queensland Government's first ever trade and investment office in Vietnam. The Queensland-Vietnam bilateral relationship is an increasingly significant and valued one – built on a foundation of two-way trade and investment; education and cultural links as well as people-to-people ties. Next year, 2023, will mark the 50th anniversary of the Australia-Vietnam relationship, so it is timely that our Queensland Trade and Investment office has opened ahead of this major milestone.  Vietnam is Queensland's fifth largest agricultural export market, valued at $506.4 million. Our exports grew by 21% in 2020-2021 from the previous year.
"Our proximity to Asia, our robust food safety systems, and our producers who embrace sustainable and ethical farming and practices are fundamental to our State's reputation for premium food. One of the canapes tonight features Borrowdale pork. This family-owned farm uses the highest ethical standards to raise pigs; there is no moisture infusion in their meat; no added hormones and it is certified free range. Borrowdale Pork is also carbon neutral, with the company offsetting its emissions by supporting a wind power project in India."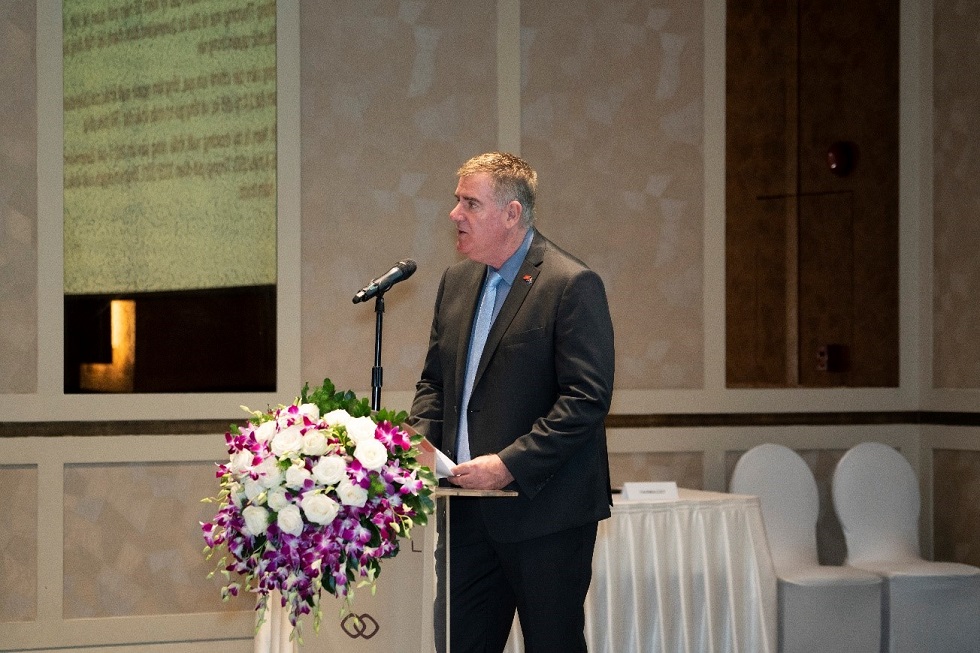 "Through this trade promotion program, we look forward to meeting with leading importers, distributors, and investors in Vietnam in order to discuss initiatives to develop advanced agriculture, long-term cooperation opportunities in farm produce and food trade, in order to bring commercial benefits to both Vietnam and Queensland," said Mr. Furner.
Vietnam has signed 15 free trade agreements, three of which are regional agreements involving Australia, namely the Comprehensive and Progressive Agreement for Trans-Pacific Partnership (CPTPP), the Regional Comprehensive Economic Partnership (RCEP) Agreement, and the ASEAN-Australia-New Zealand Free Trade Area Agreement. These are excellent platforms for Australian and Queensland goods and investments to enter Vietnam.
The Honorable Mark Furner MP, Queensland's Minister for Agricultural Industry Development and Fisheries and Minister for Rural Communities, witnessed the signing of a Memorandum of Understanding (MOU) between Thanh Thanh Cong Sugar Bien Hoa JSC (SBT) and Queensland-based agronomic consultancy Farmacist. This event makes a significant contribution to the sustainable development of the sugar industries in Vietnam and Queensland in the years to come.
SBT has previously purchased over 1,200 hectares of sugarcane material in Tully, Queensland. It is also the first Vietnamese sugar company to be invited by the Australian government to visit Australia in an effort to further enhance exchange and cooperation in 4.0 agricultural development.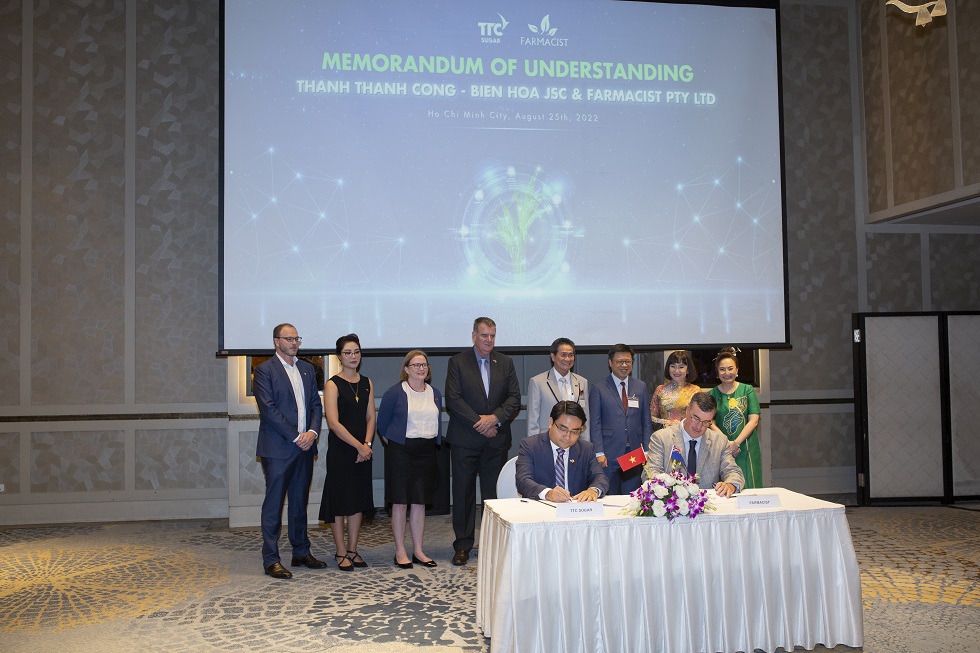 "SBT always strives to find high-quality material areas and we realize that our business philosophy towards sustainable and high-tech agriculture is completely in line with Queensland's development orientation," said Madame Dang Huynh Uc My – Thanh Thanh Cong Sugar Bien Hoa JSC (SBT) at the MOU signing ceremony.
"Furthermore, in the 2021-2025 sustainable agricultural development strategy, SBT aims to increase the raw material area in Australia to 20,000 hectares, which utilizes digital farming technology via the Farmer Relationship Management (FRM) platform. We also intend to transfer Queensland's technology and high-tech agricultural production and management process to our young workforce via Australia's Agriculture Visa program," she said.
This Memorandum of Understanding is the first step in an important and long-lasting cooperation journey between Thanh Thanh Cong Sugar Bien Hoa JSC (SBT) and Queensland agronomic consultancy Farmacist, with vast knowledge and technology transfer activities. This event demonstrates that SBT has carefully researched and acknowledged that the investment opportunity in Queensland will be a leverage to quickly achieve its ambition of expanding the high-tech and sustainable large-scale sugarcane raw material area in Australia.
Australia is the world's leading agricultural producer, with exceptional agricultural research capabilities and scientific background, as well as significant government attention and support. The soil, rainfall, and water in Queensland's raw material area, in particular, are ideal for growing sugarcane.