From a business operating only in the field of thin monolayer film, An Phat Holdings (APH) has over the past two decades clinched an interdisciplinary ecosystem staffed by more than 5,000 employees at 15 member companies across Vietnam and branches worldwide. APH is making great strides to fulfill its goal of becoming the biggest bioplastics group in Southeast Asia.
Making great strides after establishing Holdings
Formerly known as a small thin monolayer film company founded in 2002, An Phat Holdings has quickly become the largest thin monolayer film manufacturer in Southeast Asia and a leading bioplastics group with a closed business ecosystem. This is the story of a company that dares to take bold steps to revolutionize itself.
Currently, APH has expanded its business scope to a wide range of operations and manufacturing: Compostable materials and finished products; Packaging; Engineering plastics and SPC flooring; Raw materials and chemicals for plastics industry; Precision engineering and molding; Industrial real estate. APH has made its presence felt with 15 member companies in Vietnam and branches in the United States, Singapore, South Korea and France.
APH also directly owns two listed companies: Hanoi Plastics Joint Stock Company (Ticker symbol: NHH) and An Phat Bioplastics Joint Stock Company (Ticker symbol: AAA), and indirectly owns shares of 10 other companies through the two companies listed above.
The year 2017 is considered as the first milestone for APH's spectacular growth when An Phat Holdings was officially established, marking its transformation into the holding company model and its position as the leading manufacturer of thin monolayer film in Southeast Asia. Three years later, the company's charter capital has soared to nearly US$63 million. APH has had more than 10 new member companies under its umbrella, carried out a host of large-scale projects both at home and abroad, and achieved impressive growth.
According to its consolidated business results report, APH's sales increased significantly from US$106 million in 2017 to US$405 million in 2019, four times as much, generating a compound annual growth rate (CAGR) of 96%. The Corporation's owners' equity in 2019 reached US$173 million, 104% higher than in 2017, while its total assets rose to almost US$426 million, nearly double that in 2017.
During 2017-2019, APH's net profit posted a compound annual growth rate of 131%, and its net profit in 2019 reached US$30 million, five times higher as compared to 2017. Its ROE rose from 7.0-7.2% in 2017 and 2018 to 20.4% in 2019, indicating the efficiency of APH's capital utilization. By Quarter II-2020, APH's products have made their way to more than 60 countries worldwide.
Together with packaging as the main business line, since its establishment of the holding structure, APH has extended to new sectors including: Supporting industries, industrial real estate and compostable materials and finished products.
As regards supporting industries, APH has focused on high technology development with the ultimate goal of participating in the global supply chain. During 2018-2019, the enterprise invested in three major projects: acquiring a famous auto and motorbike spare parts maker; cooperating with one Vietnamese largest group to establish a factory producing auto parts; and increasing investment scale for electronic components manufacturing plants.
APH is also among a few businesses in Vietnam to venture into precision engineering and molding. Currently, the company owns a factory which is projected to become Vietnam's leading molding manufacturer. APH's portfolio of many famed multinational customers such as Toyota, Samsung, Honda, LG, Panasonic etc. has proved how effective the company is in this field. Also, APH has been selected by the Ministry of Industry and Trade and the Authority of Hai Duong province, and Samsung Vietnam as a leading business for developing supporting industries in Hai Duong (80km from the capital of Vietnam).
Albeit a newcomer to industrial real estate, after only more than one year, APH has attained a position in Top 10 most beneficial industrial real estate businesses in Vietnam in 2019. An Phat Complex and Quoc Tuan-An Binh in Hai Duong, both developed by APH, are located in the key economic triangle of Northern Vietnam. APH is developing these two industrial parks in its green ecosystems providing one-stop services. Currently, industrial real estate contributes approximately 11% to the corporation's gross profit.
About compostable materials and finished products, APH is determined this will become its long-term growth driving force that contributes a large proportion to its revenue. APH also announced its plan to build the first green materials manufacturing plant in Vietnam.
Compostable materials and finished products – APH's strategic plan
Environment-friendly products are projected to account for 20-30% of the total plastic consumption globally in the upcoming three to five years. Many countries have come up with policies to promote green consumption, especially in the US and EU. In Vietnam, at the G-20 Summit on June 29, 2020, Prime Minister Nguyen Xuan Phuc said by 2025 Vietnam aims to end the use of disposable plastics. The development of compostable materials and finished products should therefore be the strategic transition expected to make a breakthrough for APH.
"APH will follow the common trend of our era," said Mr. Pham Anh Duong, APH Chairman, "focusing on green products which will account for the majority of the Corporation's revenue and profit in the future."
However, to achieve its goal that compostable products will account for 40-50% in packaging revenue, the company faces three difficulties regarding: production technology, material resources and product costs.
Regarding production technology, in June 2019, APH acquired a 51% stake in Top Leaf Company, a South Korean firm which is one of a few companies in the world owning patent for producing compostable materials, and changed it into AnKor Bioplastics. This means APH is now Vietnam's first enterprise to hold the patent for manufacturing compostable materials besides BASF, Novamont, NatureWorks etc. At present, APH's compostable products meet strict international standards such as TUV OK Compost HOME, TUV OK Compost INDUSTRIAL and are present in more than 20 countries worldwide.
After having the patent for manufacturing compostable materials, APH has also announced its plan to build the first compostable material manufacturing plant in Vietnam. Construction for this 20,000-ton plant will start early next year and slated to be completed by the end of 2022.
According to APH, thanks to the initiative in material resources, it is expected that in the next 3-5 years, the profit from compostable bags can increase from 10% currently to about 50% in packaging revenue. Therefore, it can significantly improve APH's profit margin, as the gross margin of this product line is about 20% compared to the average 14% of conventional packaging, saving production costs about 30% for subsidiaries while the parent company still enjoys a gross profit margin of 25-30% of this project.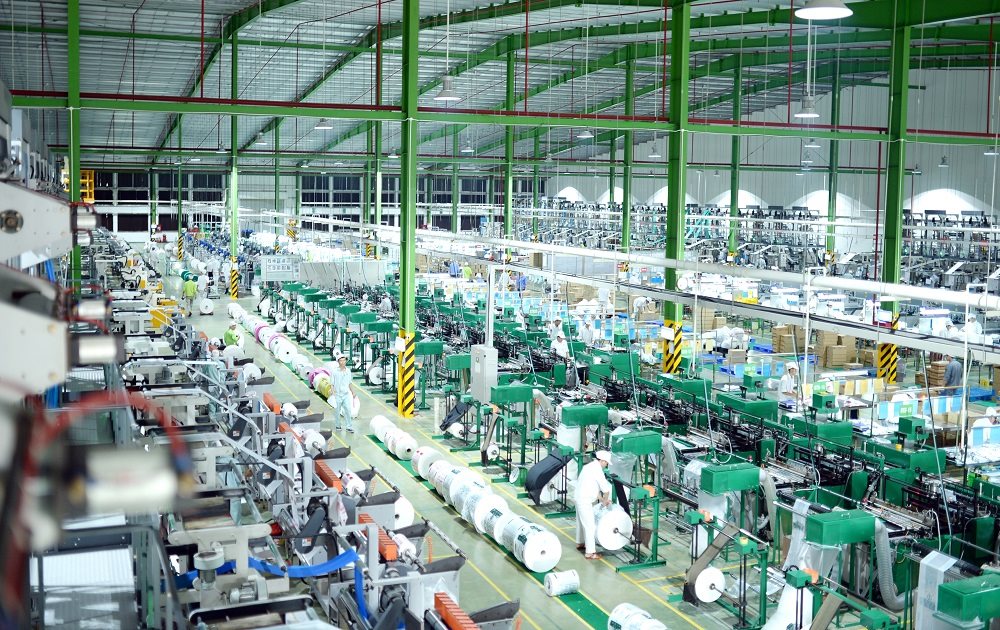 Listing Vietnam's leading plastics group on HoSE
In June 2020, APH successfully auctioned 4.3 million shares, equivalent to 3% of the stake, to mobilize capital for the construction of AnBio compostable material manufacturing plant.
The initial public offering (IPO) attracted 109 investors who placed orders for 20.76 million shares, the registered shares are nearly 5 times as many as the selling volume. The average successful bidding price was over US$2 per share, twice as much as the starting price. After the IPO of 3% of its stake, APH gained more than US$9 million and was valued at almost US$281 million.
Accordingly, the IPO offered most of its shares to strategic and long-term financial investors. In 2020, APH plans to issue 20 million shares, equivalent to 14% of the outstanding shares. Currently, APH is working with nearly ten foreign financial and strategic investors from South Korea, Japan and Germany and some other multinational institutions.
As the total capital needed for the PBAT compostable material manufacturing plant is over US$70 million, APH plans to call for 50% capital from owners' equity and 50% from borrowed capital. In 2020, the company seeks to raise about 80% of the needed capital while the remaining 20% will be raised next year mainly from commercial loans or straight bonds.
APH's long-term goal is to list all member companies on the stock exchange.
On July 28, An Phat Holdings was officially listed on the Ho Chi Minh City Stock Exchange (HoSE) with ticker symbol as APH. HoSE is the Vietnam's most prestigious stock exchange. This chronicles another milestone for APH's development, which opens up more opportunities for mutual cooperation and asserts the position of Southeast Asia's biggest bioplastics group in the coming time.