Life in HCMC is gradually returning to a state of normalcy, to some extent, but the measured peace of mind in the city these days can hardly be achieved but for the generosity of the business circle. Hung Thinh Land, alongside Hung Thinh Corporation, is one of the most outstanding corporate pioneers that have unleashed their resources for the good of the community.
During the tough times induced by the Covid-19 pandemic, the shortage of medical supplies including vaccines posed the biggest challenge for front-liners, especially major hospitals in HCMC. Prompt responses from companies like Hung Thinh, therefore, have helped save numerous lives.
Generous companion of sufferers
In response to the call from the Government, Hung Thinh donated VND50 billion to the national Covid-19 vaccine fund and VND50 billion to the Vietnam Fatherland Front Committee in HCMC to buy Covid-19 vaccines. In HCMC alone, its donations have totaled some VND80 billion.
As a pioneer donor, Hung Thinh wanted to demonstrate its responsibility to the community, share burden with the State budget and help residents to get vaccinated early, said Nguyen Dinh Trung, chairman of the corporation.
Specifically, on February 17, 2021, Hung Thinh presented a Covid-19 testing machine system worth nearly VND5.3 billion to the HCMC Center for Disease Control (HCDC) to help the city enhance its Covid-19 testing capacity.
Regarding the Covid-19 treatment in HCMC, Hung Thinh presented 200 high flow oxygen ventilators valued at VND14 billion to the municipal Department of Health. The ventilators have been delivered to 32 hospitals in the city, including the HCMC Hospital for Tropical Diseases, Trung Vuong, Pham Ngoc Thach and field hospitals.
In July, the company spent VND10 billion buying 75 patient monitors for nine hospitals treating Covid-19 patients in HCMC and gave 5,000 folding beds worth over VND2.5 billion to a field hospital in Thu Duc City's An Khanh Ward. Moreover, 50,000 test kits were presented to Thu Duc City on July 21.
Hung Thinh's sponsorship of VND1 billion for the research of Molnupiravir, a Covid-19 antiviral, at Thong Nhat Hospital was also a typical activity of the firm amid the pandemic.
It can be said that Hung Thinh has accompanied HCMC in all aspects of the fight against the pandemic, from testing, treatment, vaccination to support for residents affected by the pandemic.
At an event to receive donations from the corporation, chairwoman of the Vietnam Fatherland Front Committee in HCMC To Thi Bich Chau said Hung Thinh was among the most generous donors for the city's Covid-19 vaccine fund.
Besides support activities in HCMC, Hung Thinh has also attended to many other provinces adversely affected by the pandemic such as Binh Dinh, Dong Nai, Binh Duong, Ba Ria-Vung Tau and Lam Dong, accompanying them in responding to Covid-19 and supporting residents.
Specifically, the firm presented four ambulances, 50,000 Covid-19 vaccine doses, 50,000 test kits and medical equipment worth VND9.5 billion to Binh Dinh Province. Earlier, the company had sponsored VND500 million to help Binh Dinh residents facing difficulties in HCMC and VND200 million buying protective suits and conducting PCR tests for those residents returning to Binh Dinh.
Additionally, Hung Thinh donated 150 tons of rice, 10,000 test kits and two ambulances to Dong Nai; VND5 billion and medical equipment to Lam Dong; three ambulances and 10,000 test kits to Binh Duong; and 10,000 test kits and medical equipment valued at over VND1 billion to Ba Ria-Vung Tau.
Since early last year, Hung Thinh has spent nearly VND200 billion supporting frontline forces in the Covid response and disadvantaged residents across the country with an aim to bring about a new normal life. Hung Thinh therefore has been awarded Third-Grade Labor Order for its tremendous efforts towards the community during the Covid-19 pandemic, helping the city achieve the new normal. Hung Thinh has also been honored as one of the 30 most generous donors in the fight against the pandemic by Forbes Vietnam.
Commenting on HCMC's efforts to suppress the pandemic, Hung Thinh Chairman Trung said the firm supported the city's strict anti-pandemic measures during the social distancing period to soon bring life back to normal.
However, to minimize collateral damage caused by social distancing on residents, Hung Thinh contributed VND10 billion to the "Viet arms-Saigon" program to offer one million meals to disadvantaged people in HCMC, including the poor in more than 4,000 locations on lockdown, and workers losing their jobs and laborers who could not venture out to earn their living.
The real estate firm has also attached much importance to sharing the difficulties with its customers and partners. Hung Thinh has spent VND100 billion refunding 5% of customers' payments during the social distancing period.
Meanwhile, partners leasing retail spaces of the company in trade centers have also seen their rentals reduced.
"During the pandemic, all enterprises have faced difficulties, but if we do not unite, the difficulties will remain. Hung Thinh understands that enterprises must have responsibilities and obligations to the society," Hung Thinh Chairman Trung said when he was honored as an inspiring entrepreneur in 2021.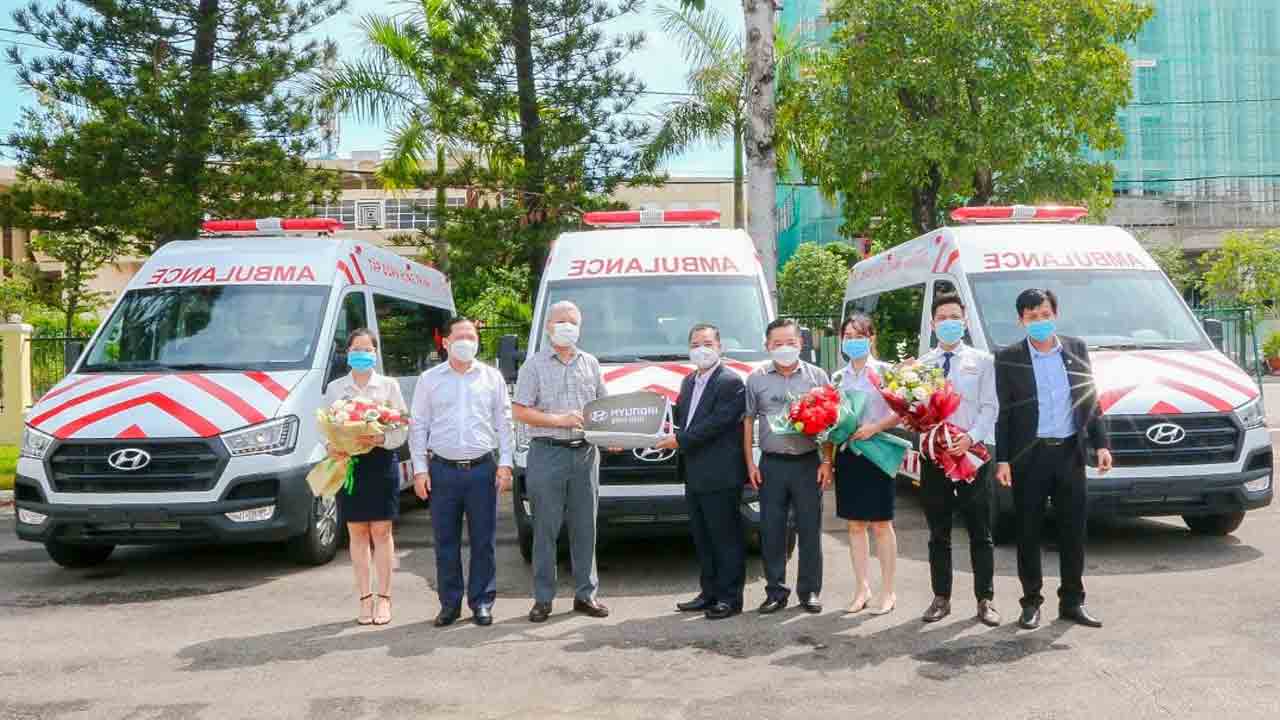 Accompanying the community in other aspects
The Covid-19 pandemic has shown how Hung Thinh has devoted itself to the community development.
Chairman Trung of the corporation stressed that enterprises should contribute to the society by spending part of their profits developing the community. "That is the corporation's definition of a sustainable enterprise," he said. Especially, when the country experiences difficulties, the sharing spirit must be fostered. "It is a responsibility as well as a mission as an enterprise's mission is to bring good values to not only itself but also its employees and the community."
In fact, Hung Thinh has over the years contributed abundantly to the society in various spheres as well.
On October 23 last year, Hung Thinh presented firefighting and rescue equipment with a total value of VND22.1 billion to the HCMC Police Department to contribute to the fire prevention and control in the city.
As the demand for firefighting and rescue equipment is urgent, the support of Hung Thinh is meaningful and shows its responsibility for firefighting, the stability and socioeconomic development of the city.
Hung Thinh has also paid much attention to students with difficult circumstances in the city. On September 8 this year, it donated VND500 million to the "Connecting love – supporting students to go to school" program to buy tablets and learning tools to help disadvantaged students learn online amid the Covid-19 pandemic.
Further, the company also presented teaching and learning tools worth VND250 million to teachers and students in Can Gio District's Thanh An Commune, encouraging them to overcome the difficulties triggered by the pandemic.
And in the historic floods in the central region last year, Hung Thinh donated nearly VND5.3 billion to help local residents overcome difficulties, including VND4 billion sourced from its budget and nearly VND1.3 billion contributed by Hung Thinh leaders and employees.
Over the past nearly two decades, along with effective business activities, the 3,000-strong Hung Thinh Corporation has always considered corporate social responsibility activities as its mission and part of its sustainable development strategy.