Digital transformation in agriculture cannot be achieved with hasty decisions and half-hearted attempts. It is a long-term process requiring constant efforts, specific goals and step-by-step strategies.
Nearly 10 million farming households have been facing capital, equipment, and knowledge shortages. Many farmers cannot take the risk of investing in digital transformation with their small-scale farming as financial burdens, including living expenses and costs of seeding and fertilizers, weigh them down every day.
Happy Vegi's roadmap for digital transformation
In September 2022, Huong Dat Company closed its 5,000-square-meter vegetable garden branded Happy Vegi, located near the Tan Son Nhat International Airport, and returned the cleared land to the authority.
However, Huong Dat's smallest vegetable garden has completed its mission, as it was a successful model for the digital transformation of six organic vegetable gardens in HCMC, Ba Ria-Vung Tau, Dak Nong, Kontum and Phu Yen provinces.
Nguyen Thi Quynh Vien, director of Huong Dat Company, started her journey in the agricultural sector when she conducted scientific research in 2010. It was not until 2017 that she and her partners started thinking about applying digital transformation to farming. "That's when we realized traditional farming methods cannot bring the same value as in the past. First, we inserted the farming information into our application, yet only one employee was in charge of inputting data from the handwritten notes of the workers in the garden. Consumers could read the information after scanning the QR codes on the products," Quynh Vien said at the Mekong Connect 2022 in Can Tho.
However, their first step could not satisfy the demands of the production administration at Huong Dat Company, including production planning, managing and supervising. Huong Dat had to digitalize up to 50 processes. It took three months for Huong Dat to get everything on the right track. Sales in the second stage increased eight times, yet the problem of logistics persisted.
As the garden was located over 600 kilometers from HCMC, it took at least 14 hours to transport the products to the city. Meanwhile, Huong Dat Company's goal was to ensure the freshness of vegetables by shortening the time from receiving orders to offering them for sale to less than 24 hours. The digital transformation helped reduce the period for management, harvesting, quality checking, packaging and transporting to 20 hours, exceeding the target by four hours. After that, the company continued to train its employees through apps and applied digital transformation to the financial management process. "It could be said that we had already digitalized 100% of the production process of the company," Quynh Vien said.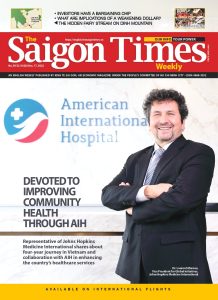 Determination and long-term efforts
The story of this small company reveals some of the huge challenges that Vietnam's agricultural industry has to overcome. "First, digital transformation is a problem with many variables. With each parameter change, the problem will be solved in its own way, leading to a different answer. Moreover, the farmer's mindset is considered a huge challenge," Quynh Vien explained.
Not many people, especially small-sized enterprises and farmers, can afford to afford the expenses. According to Quynh Vien, Huong Dat hired a technology specialist; however, the company had to rely on a friend of hers, a specialist at FPT, for the digital transformation project.
"Honestly, we could not afford to pay for the specialist daily or monthly for a long period. Without the funding of VND1 billion from Australia's digital transformation project in Vietnam's agriculture, Huong Dat Company would struggle with many huge obstacles to achieve the goal," she said.
Currently, Huong Dat has around 30 types of organic vegetables under the brand Happy Vegi available for sale at a variety of stores and supermarket chains, including Emart, Aeon, CoopXtra, Go, TopsMarket and Big C. The term "vegetable garden" is still being used at Huong Dat Company instead of "farm" because its gardens are of small scale. The vegetable garden near the Tan Son Nhat International Airport and the one in Ba Ria-Vung Tau are around 5,000 square meters. The total area of other gardens ranges from 10,000 to 18,000 square meters each. The largest one is located in Mang Canh, Kon Tum Province, with a total area of 42,000 square meters.
Some 70% of the farms in Vietnam are smaller than two hectares. The country is known for having the smallest farms in the world, with an area of 0.4 hectare, just a little bit wider than Huong Dat's gardens. So how many farmers could be qualified enough to cope with the workload and satisfy the farming requirements like Huong Dat?
Policies for the new agricultural industry
At the Mekong Connect 2022, Dong Thap was mentioned as one of the first provinces in the region to apply digital transformation to agriculture.
Over the years, Dong Thap Province has joined hands with RYNAN Technologies Vietnam to carry out a three-stage project: data digitalization, process digitalization, and digital management. The project is currently in its second stage. RYNAN Technologies has developed pest control, as well as aluminum and salinity measurement apps. At the beginning of 2023, the technology for floodwater management will be applied in the province.
Digital transformation is inevitable as part of the high-tech agricultural industry Vietnam has been aiming for. However, the journey is not all rosy, as it is not just about developing apps. It requires efforts combining the Internet of Things, blockchain, biotechnology, genetic engineering, genomic analysis and tissue culture technology.
Currently, Vietnam has established some 12 high-tech agricultural zones. The Ministry of Planning and Investment is drafting decrees on capital support and preferential interest rates for businesses investing in agricultural development in remote areas. Any companies with high technology transfer plans, training programs for human resources and market development will receive VND1.5 billion at most in each field from the State's budget. Additionally, each investment project in livestock farming will be given VND10 billion.
With such limited funding, businesses and farmers will find it challenging to stand firm in digital transformation, Quynh Vien admitted.
Generally, Lam Dong is the leading province in high-tech agricultural production, yet it has still faced many hurdles, especially how to call for investment. Some hurdles include high investment costs, the demand for large land areas, inaccurate market predictions and high production expenses. Those hurdles resulted from inadequate State management over agricultural planning and production, spontaneous agricultural projects and non-compliance with intellectual property regulations.
It is necessary for a high-tech agricultural industry to reinforce the relationship between farmers, researchers and investors. "Even Israel's modern agriculture needs support from foreign countries, and the foreign investment amounted to 50% of the total," Nadav Eshcar, former Israeli Ambassador to Vietnam, said at the Mekong Connect 2019.
"Made-in-Vietnam" high technology
At Mekong Connect 2022, Dr. Luong Viet Quoc, CEO of Realtime Robotics Inc (RTR), said that his company provided defense and security surveillance drone systems for the U.S. market. RTR will focus on manufacturing agricultural drones to detect and treat crop diseases.
Dr. Nguyen Dinh Uyen, currently working at the International University, said that his group used drones to cure 1,000 hectares of banana crops in Vietnam within a night. The enterprise could not believe that drones could detect the right disease in the crop that fast. However, the costs of high technology are prohibitively expensive for farmers and small businesses. "Therefore, we tend to import high-tech equipment, learn from the experience of other countries and then adjust it to satisfy domestic demand. Besides, we focus mainly on research and development activities," he said.
However, his company has yet to receive such orders from domestic enterprises, although they are experienced in using spectral technology to detect fake alcohol and fabric and fruits containing pesticide residue. Not many enterprises pay enough attention to the problems of fake fertilizers or animal feed.
Additionally, the copyright fees for their technology are not high. "Due to its limited land use, Singapore had to grow mushrooms in containers. An enterprise in Singapore contacted us about buying plasma technology as they could not eliminate harmful fungal spores in the water. They paid just US$25,000 for the technology to ensure the purity of the water, improving the product's quality and crop yield. Nevertheless, how many mushroom enterprises in Vietnam can spend VND500 million to VND600 million to ensure the purity of water?