During Mayor of Rotterdam Ahmed Aboutaleb's visit to HCMC, The Saigon Times Weekly spoke to the Mayor and experts from Rotterdam about the city, its issues and the way forward
During a two-day visit to HCMC from July 27 to 28, Ahmed Aboutaleb, Mayor of Rotterdam, the Netherlands, shared some interesting insights into port development, climate change and the smart city.
Carlos Zepeda, a senior maritime economist, and Johan Verlinde, a director of the climate adaptation planning program in Rotterdam, also joined the mayor to give their comments about these issues. The mayor said that the best cooperation between HCMC and Rotterdam would be through sharing ideas and technologies.
Future vision for port development
Aboutaleb said that during the visit, he wanted to exchange information and experience in port development with HCMC, such as how Rotterdam has done with traffic congestion, logistics and technology application.
Around 60% of Vietnamese exports destined for European markets currently enter via the Port of Rotterdam. Businesses can enjoy Rotterdam's central location within the European market, as well as its excellent business and fiscal environment, great connectivity and world-class value-added logistics for all sectors of the industry. Likewise, HCMC, with its strategic geographical location, is one of ASEAN's main business hubs.
HCMC and Rotterdam speak the same "port language" and that's why the two sides need to learn from each other, said Aboutaleb.
In terms of technology, many innovations are continuing. In the next five to six years, those who operate ships and logistics will not go to ports but will work from home. "This opens the doors for mothers to work from home while their kids are sleeping," said the mayor. "Ports, the place where we transport products, make products and consume products, will be a revolution in the coming decades. So, ports across the world and Vietnam should prepare for that."
Investing in ports needs billions of dollars, and clean energy will be the future of port development, he shared. "That is the way we deal with pollution."
Zepeda shared the same view. He said port development in Vietnam needs a long-term focus, 20 to 30 years ahead. It should also take into account environmental constraints and technical benefits in each place along the coast, as port development is not suitable for all places along Vietnam's coast, he added.
"We need to see what new industrial development is expected. In the maritime sector, for example, it is hydrogen," Zepeda said.
Given the cooperation between the two countries, the expert said, "We are happy to help and we see a lot of potential in Vietnam."
However, he said the initiative must come from Vietnam, particularly, what issues the Vietnamese side needs help with, which projects and clear objectives. "From these, it will be easy for us to help Vietnam in any specific situation," he shared.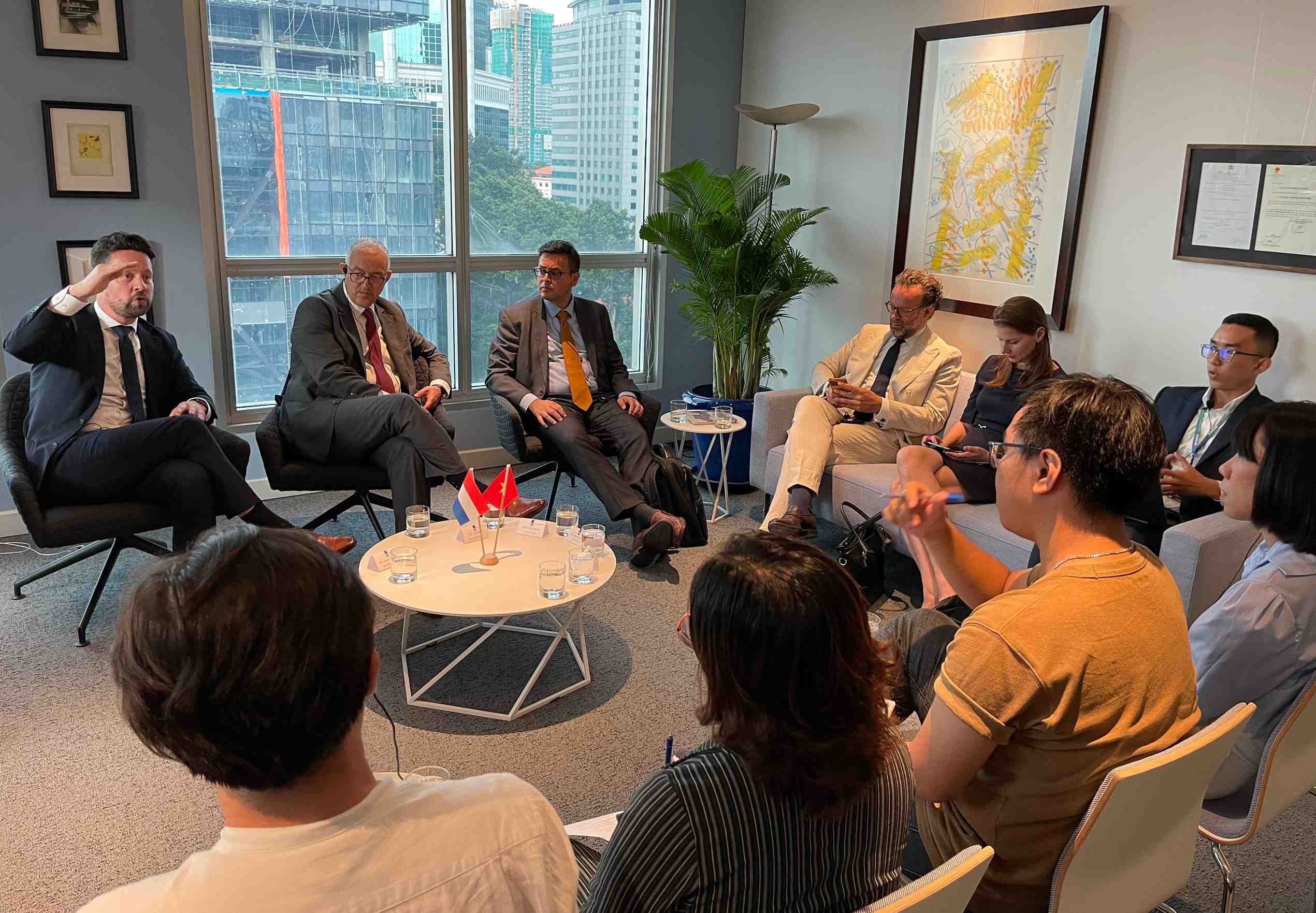 Adaptation to climate change
Climate change is a global issue, not only affecting Vietnam but other countries worldwide as well. "There are things we can do to mitigate climate change. Electric buses, for example, are a way to mitigate the impacts of climate change," said the Mayor of Rotterdam. People cannot win the war on climate change but the only thing they can do is invest in instruments to mitigate its impacts. "That means we have to adapt to the new situation," he said.
For instance, Vietnam, especially HCMC, can work with other neighboring countries such as Singapore to create a book showing how they have adapted to a new level of water, the mayor advised. He also mentioned how Rotterdam had built underground water storage to collect rainwater and discharge it into the sea. That is how the city adapts to its situation, he said.
Besides, HCMC should use land and think carefully about every construction project. All of them are in the city government's hands, he added.
As an expert on climate change, Johan Verlinde said, "HCMC and Rotterdam are both impacted by the sea level rise. So, I think both sides can learn from each other to mitigate the effects, making HCMC more attractive."
Acclimation to flooding is not adding a pump to the city, but the way is to catch rainwater and cool down the city by making it greener, he added.
No such thing as a smart city
"Smart City" has been a buzzword in Vietnam recently. So, what is a smart city?
The Mayor of Rotterdam said a smart city does not exist. He explained, "I know everyone defines a smart city by its use of technology, which makes the city functional smartly. However, we have only smart people."
He added that finance and social welfare are not all the city needs to fight against poverty and create smart people, but, it is education. "The best investment any country can make is in education that shapes the people, making raw diamonds shine bright."
Only people with brains can fight against poverty as they seek opportunities to make their living, the mayor said.