Referred to as the "Halong Bay of the northwest region", Nong Dung Lake has recently been attracting tourists as an ecotourism destination due to its emerald water and poetic scenery.
Nong Dung Lake belongs to Huu Lien Commune, Huu Lung District, Lang Son Province. The whole commune is inside 8,300 hectares of the Huu Lien Nature Reserve stretching over Huu Lung, Chi Lang and Van Quan districts. The lake is some 120 kilometers from Hanoi, so it is easy for tourists to get there by motorbike or by car.
The nature reserve is also home to the Huu Lien special-use forest, a green lung of the northwest region because it is surrounded by high mountains, cave systems and underground streams, creating a diverse ecosystem with a pristine landscape and offering visitors an unforgettable travel experience.
The lake is suitable for all outdoor activities such as camping, kayaking, rowing around the lake, etc. Tourists can visit there any time of the year. During the dry season, from November until June, the Nong Dung Lake is surrounded by the fresh green grass surface of the Dong Lam Steppe. Visitors can camp there, hold a BBQ party, go fishing, ride a horse and enjoy the peace and fresh air.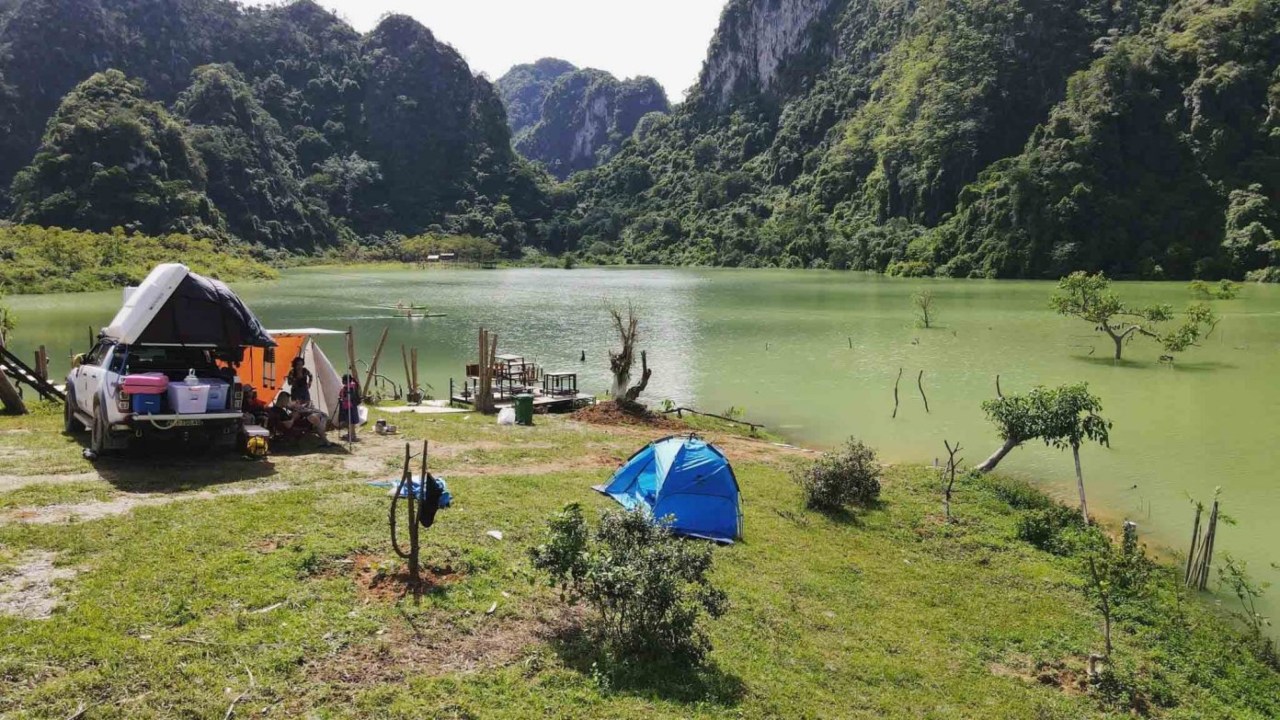 From July to October, the rainy season is the best time to visit Nong Dung Lake. Water continuously flows down from mountains and cliffs, raising the water level and turning the lake into a jade green ocean. During the cool autumn weather, tourists can go kayaking, standup paddleboarding, take photos and admire the charming Nong Dung Lake.
The flooding season depends on the weather conditions. Tourists must contact locals to know the right time to visit the lake.
On the way to Nong Dung Lake, there is a persimmon garden on the left. During the persimmon season, tourists can easily pick persimmon and buy them at the gardens.
Nong Dung is located inside Huu Lien community-based tourism village. It is home to nine ethnic groups: Kinh, Muong, Cao Lan, San Diu, Tay, Nung, Dao, Mong and Thai. The people there are gentle, friendly and hospitable, and tourists can experience a multi-ethnic identity.
Visitors can also try local specialties, such as the Lang Son roasted pig and roasted duck, grilled pork, sticky rice, etc.